Design Thinking is a problem solving process. It is said to be "a formal method for practical, creative resolution of problems or issues, with the intent of an improved future result". Design thinking is a set of tools that enables solving a particular problem using analytics and creativity. Solving the problem is at core of design thinking.The goal of improving lives is an important endpoint to the process of design thinking. In fact, it's what design thinking is all about: finding fresh, creative solutions to problems, but in a way that puts people and their needs first.
Design thinking approach involves looking at already existing product and analyzing the ways to make it better and more user-friendly. It's about generating a plenty of new ideas, while placing the needs of customers above all. This is why Gurzu has been using this approach since long way.
Design Thinking consists of five principles: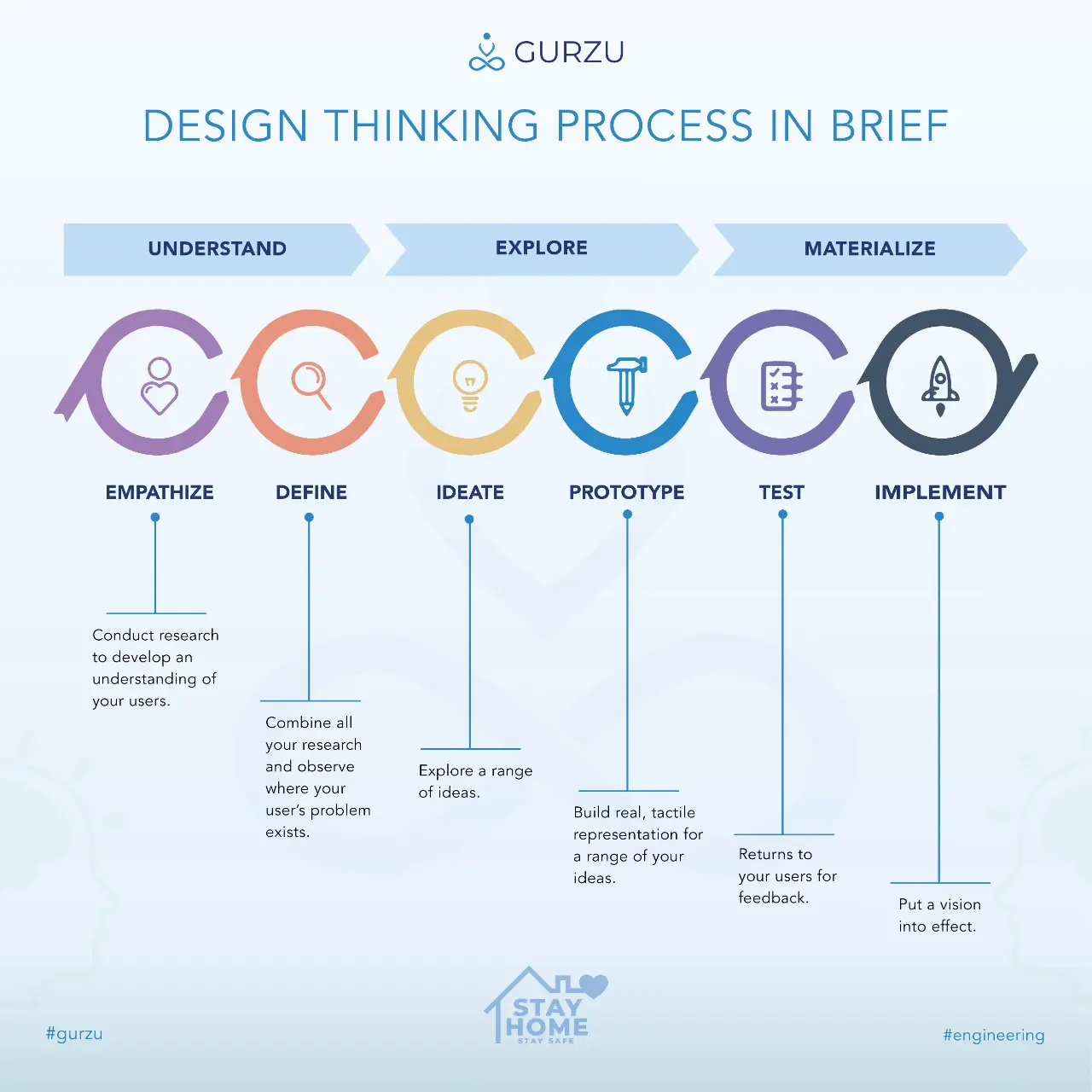 Fig: Process for Design Thinking
Namely,
Empathy
Define
Ideate
Prototype
Test
Empathy is an initial step of the entire design thinking process. Empathizing with the customers enables understanding their needs and finding out what they really want, looking at the products and services from users' perspective. It is all about observation, understanding and interacting with customers or users.
After empathizing with the customers, there comes the phase of identification of the problem i.e Define that we need to solve. On this stage we have to define a point of view, consisting users, their needs, and insights. We have to establish deep understanding of our character – the user. Outline a set of needs our user has and provide the insights, based on our research and discoveries.
Now, we need ideas. After identifying problems, we need to find way to generate solutions. For this, What we need is a plenty of creative solutions and ideas, multiple perspectives, and different viewpoints. It is an exploration phase, where all the ideas must be encouraged even if they seem to be not relevant enough.
Then it's time to make a draft. we have to represent our idea in a clear and tangible form so that others could understand. It can be in a form of product, model or a sketch, but the primary aim of building a prototype is to pass our idea to the others and figure out how our product may feel and look.
On the final stage i.e Test of the design thinking process, prototype is put into action and tested by people. We give it to users, see how they interact with it, how they implement it, and get us feedback. This phase allows us to understand what is right and what is wrong, and refine our ideas.
At Gurzu, we have been implementing design thinking approaches for the development of product and services by putting customers' needs at the heart of the development strategy, and using creative and innovative techniques. Design Sprint is one of the different ways.
Design Thinking and Design Sprint are interrelated with each other. Design Thinking is a foundation, a philosophy, a toolkit for innovation . And the Design Sprint is one great way of systematically executing all of it. We at Gurzu, have been using design sprint across different projects. One of our first was with Designerex. This is what our client of Designerex has to say about us:
"Gurzu and the team have been excellent in developing the designerex™ platform. This project involved building a world-first technology platform and Gurzu were outstanding in delivering a very successful result. The whole team is very reliable and exceptionally talented, I highly recommend Gurzu."
Want to know how we implement Design Sprint? Our previous blog will guide you: https://bit.ly/3ullyNn