Designerex™
Designerex™ is the world's largest peer-to-peer designer dress sharing platform. We combine the sharing economy and leading technology such as real-time ID verification, with high-end designer clothing, enabling women to tap into underutilized designer clothes to make money by securely sharing their designer dresses with others.
Business Challenges
Designerex™ wanted to create a platform that people could trust to lend their precious dresses. Dresses that had memories attached to them. Like the dress people had worn on their wedding or to their prom or a dress that a loved one gifted on a special occasion. It was hard to trust to lend these special dresses to someone random on the internet. We had to come up with a platform that could facilitate a sense of trust in handling these precious and beloved dresses.
Solution
We built a platform that is not only visually appealing and intuitive to use for ladies looking for a special dress to make them feel special on special occasions but also created a platform where lenders could rest knowing that their precious dresses would be delivered to genuine and responsible people of the world.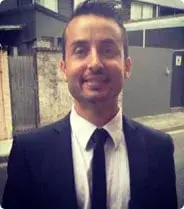 Gurzu and the team have been excellent in developing the designerex™ platform. This project involved building a world-first technology platform and Gurzu was outstanding in delivering a very successful result. The whole team is very reliable and exceptionally talented, I highly recommend Gurzu.
Costa Koulis
Co-Founder | Designerex™