Ruby is the language we started with and is still a significant part of our tech stack. We have built numerous projects with Ruby/Rails, and we can not stop talking about what a beautiful language it is. So as a full-cycle Ruby/Rails company, we are always looking for ways to contribute to the Ruby community as much as possible. 
One major part of being in a programming language community is contributing to its maintenance. There are multiple conferences around Ruby all year with excellent turnouts. Only last year, our engineers got an opportunity to attend RubyConf at Delhi which proved to be a remarkable experience for us.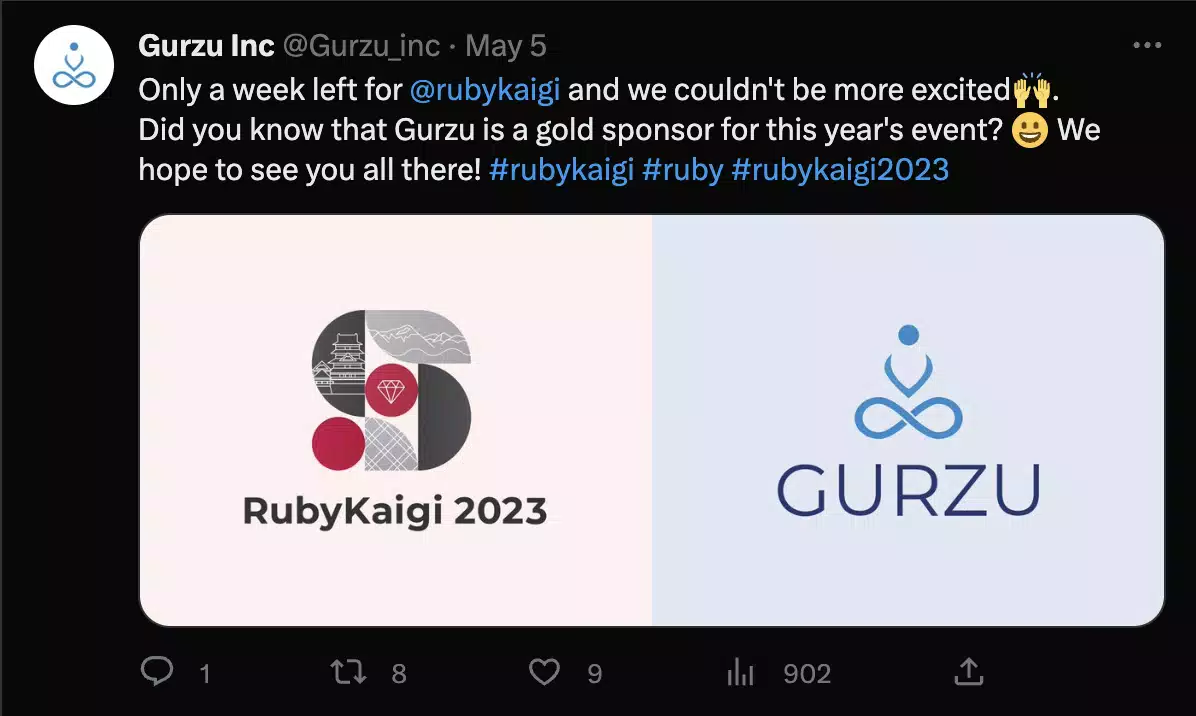 So naturally, we were excited to sponsor and attend RubyKaigi, another highly anticipated conference in the Ruby Community. 
RubyKaigi: What is it all about?
RubyKaigi is an international gathering of Ruby developers to discuss the future of Ruby, held in Japan. The first RubyKaigi was born in 2006, and this year's event was the 17th event in the series.
For 3 years during the covid pandemic, RubyKaigi went online. Otherwise, it was continuously being held in different cities around Japan.
What can you expect at RubyKaigi?
So, first things first, why do people actually attend tech conferences? Sure, you can learn about new features, libraries, and applications. But the most interesting part has to be meeting people who share the same interest as you. You meet developers from all over the world, and you never know, you might even start new collaborations, and new friendships with these people!
Tech conferences are not just hours and hours of speeches. Here are a few things that you can expect at RubyKaigi:
Presentations from leading Rubyists
Workshops for hands-on learning
Social events and parties for networking
RubyKaigi 2023
This year's RubyKaigi was held in Matsumoto Performing Arts Centre, Nagano, Japan, from May 11 to 13. RubyKaigi is special because it is attended by Yukhiro Matsumoto (Matz), the creator of Ruby himself, as a keynote speaker. Besides him, we had two more keynote speakers this year: Maxime Chevalier-Boisvert and Soutaro Matsumoto. Like every year, the speaker lineup this time included ruby committers, senior developers, and other distinguished Rubyists. 
The conference was divided into 3 different sections 'RubyKaigiA', 'RubyKaigiB', and 'RubyKaigiC', where 3 talks were held simultaneously. There were 48 different talks on various topics, such as 'RubyGems Security', 'JRuby', 'RBS', and 'Ruby Parser'
Why did we go Virtual?
Attending an international conference is also a chance to tour the hosting city, experience its culture and eat great food. 
Team Gurzu was highly excited about this opportunity. As passionate supporters of the Ruby community, we were proud to be one of the gold sponsors of RubyKaigi 2023. Our sponsorship not only showcased our commitment to Ruby and its community but also got us an opportunity to engage with fellow Ruby dev shops. 
However, despite our best efforts, we could not attend RubyKaigi in person because of technical difficulties. But there was no way we could miss out on this opportunity to experience the joy of Ruby firsthand.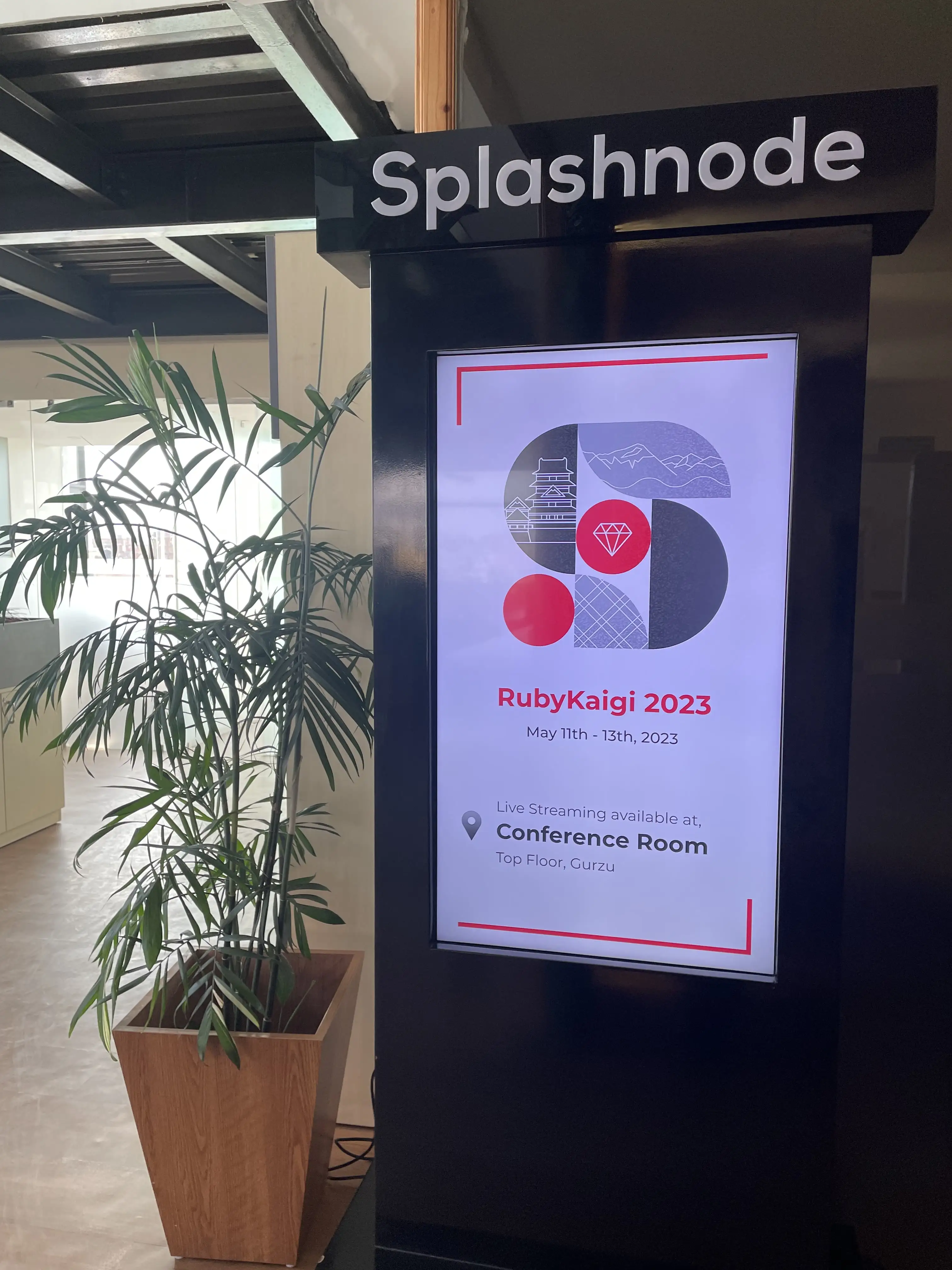 So, team Gurzu swiftly transitioned to making the most out of the conference through the power of technology. We bought tickets for live streaming of the event and broadcasted in our conference room for enthusiastic engineers.
Experience
Participating in RubyKaigi virtually allowed us to transcend geographical boundaries and connect with expert developers worldwide. We expanded our knowledge and gained fresh perspectives by participating in informative sessions and joining online discussions on various ruby-related topics. 
Find the information about sessions and slide decks here.
We are grateful for this opportunity to contribute to the community and remain committed to furthering the growth and innovation of Ruby on Rails. Virtual events have shown us that we can adapt and thrive as a company, even when faced with unexpected challenges.
What our Engineers have to say:
RubyKaigi was actively attended by Ruby developers at Gurzu. Here are some feedbacks:
Attending the Virtual RubyKaigi Conference at Gurzu was overall an awesome and insightful experience. I attended a few sessions only and got to know about Ruby Community and how Ruby Community is planning for its growth and expansion all over the world. I enjoyed the 'Code Optimization' talk at RubyKaigi. It emphasized the importance of optimizing software for better performance and the challenges developers face while ensuring high-quality code. - Prajit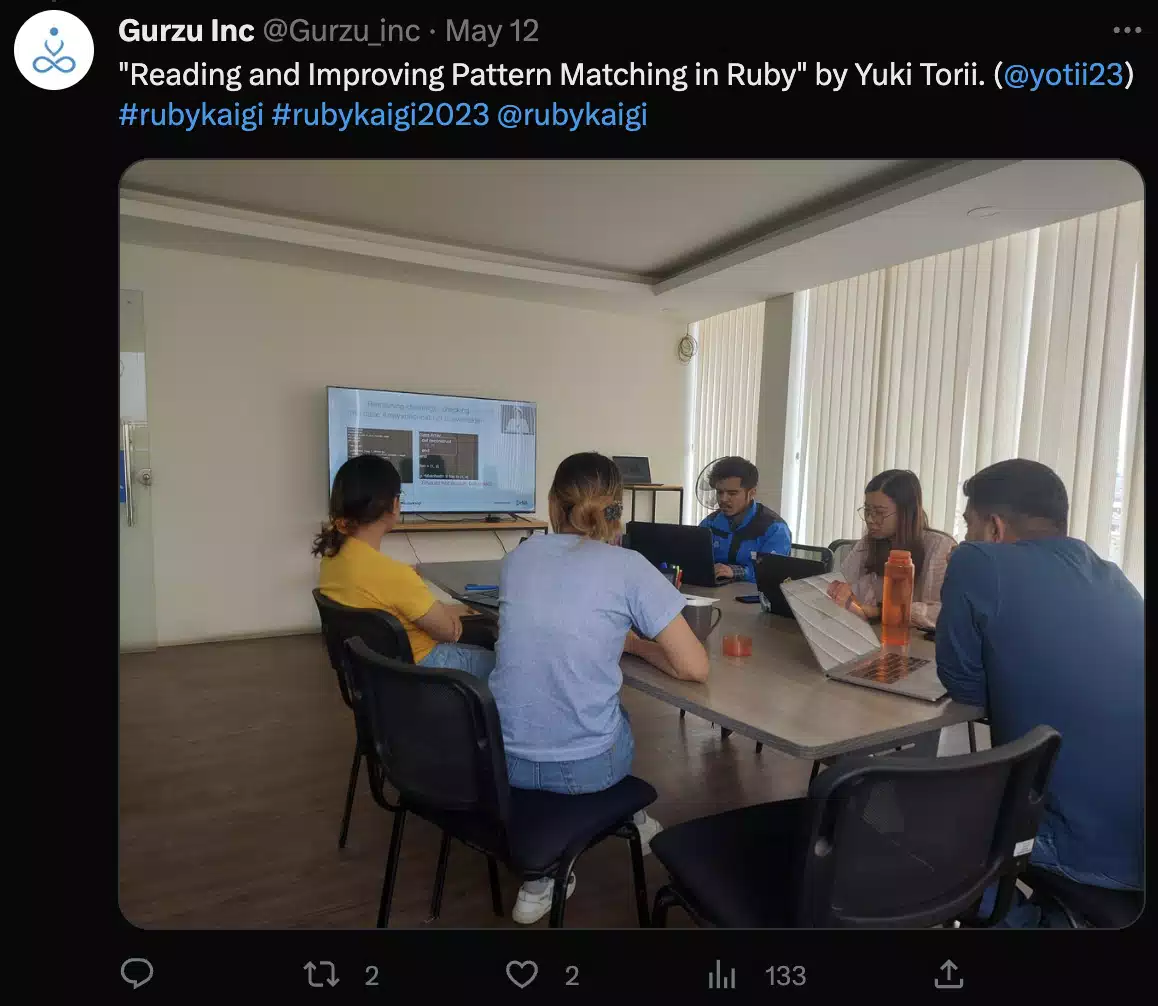 https://twitter.com/Gurzu_inc/status/1656900741775208448?s=20
I couldn't attend RubyKaigi 2023 in Japan in person. However, I'm grateful to Gurzu that I was able to attend some of the talks virtually. It was an excellent experience listening to amazingly talented Rubyists talk about their ideas. I was also amazed by the depth of the talks. There were many interesting topics on the schedule, but sadly only some of them were in English. Among the talks I watched, one of the talks I enjoyed the most was Genaldi Samokovarov's Rubocop's Baddest Cop`. 
I'm looking forward to attending more events like this in the future, either virtually or in person. - Prepsa
Conclusion
Although we missed many experiences (such as meeting fellow developers in real life and hiking to Krigamine mountain), we made the most of our virtual RubyKaigi experience. We are excited for the future of Ruby and we believe it will continue to grow even more powerful and versatile.
Ultimately, we want to ensure that we physically attend the event next time.
Till then, Sayonara!
Related Articles
Final Words
Gurzu is a full-cycle Ruby on Rails development company. Since 2014, we have built software running on the Ruby on Rails framework for startups and enterprises from all around the world using Agile methodology. Our team of experienced Ruby developers can help to develop your next product.
Have a tech idea you want to turn into reality? Book a free consulting call.