Do you know that the amount of textile waste produced yearly is nearly 100 Million tonnes? Fast fashion and fashion waste are leaving a lasting impact on our world without the consumer even being aware of them. Think about it, how many times have you impulsively bought clothes that you barely even wear?
While the world today is calling for a sensible approach to fashion in a way that reduces its environmental footprint, some entrepreneurs have built solutions that contribute to minimizing this massive problem.
Background on Designerex™
In 2014, Australian entrepreneurs Kristen Kore and Costa Koulis came up with a simple yet brilliant idea of peer to peer designer dress-sharing platform. They concluded that P2P dress rental was not just a sustainable option within the circular economy but also an income-generating medium for fashion consumers.
Designerex™ founder Costa Koulis was pitched the idea by his partner Kirsten Kore sometime in 2013. A little background on Costa, by then, he had already a disrupted the real estate advertising industry with his live board holding company valued at $4.2 Million. Now, designerex aimed to be a disrupter of high-fashion industry by providing options to optimise the use of designer wear dresses.
How it works
Imagine you need a dress to go to a party. The fashionista in you wants to dress well in a high-end designer dress, but practically, you know you are never going to wear it again, and it will end up sitting at the back of your closet forever. In this situation, will you go buy that dress that will hurt your pocket, or will you go for some sustainable options?
A platform like Designerex™ connects people who require a dress with people who have a perfectly nice dress they most likely won't wear again. Sellers can put their dresses up for rent, and buyers can rent those dresses at a fraction of the original price. It creates an incredible fashion experience for people, plus a better planet for us all.
Costa and Kirsten were looking for someone who could convert this idea into a full-functioning software solution. That's when Gurzu came into the picture. 
How Gurzu Empowered Designerex™
When we heard the exciting idea, we were immediately on board. The founders already had an idea of the kind of site they wanted. We iterated on the same idea to develop a full-fledged platform based on ruby on rails.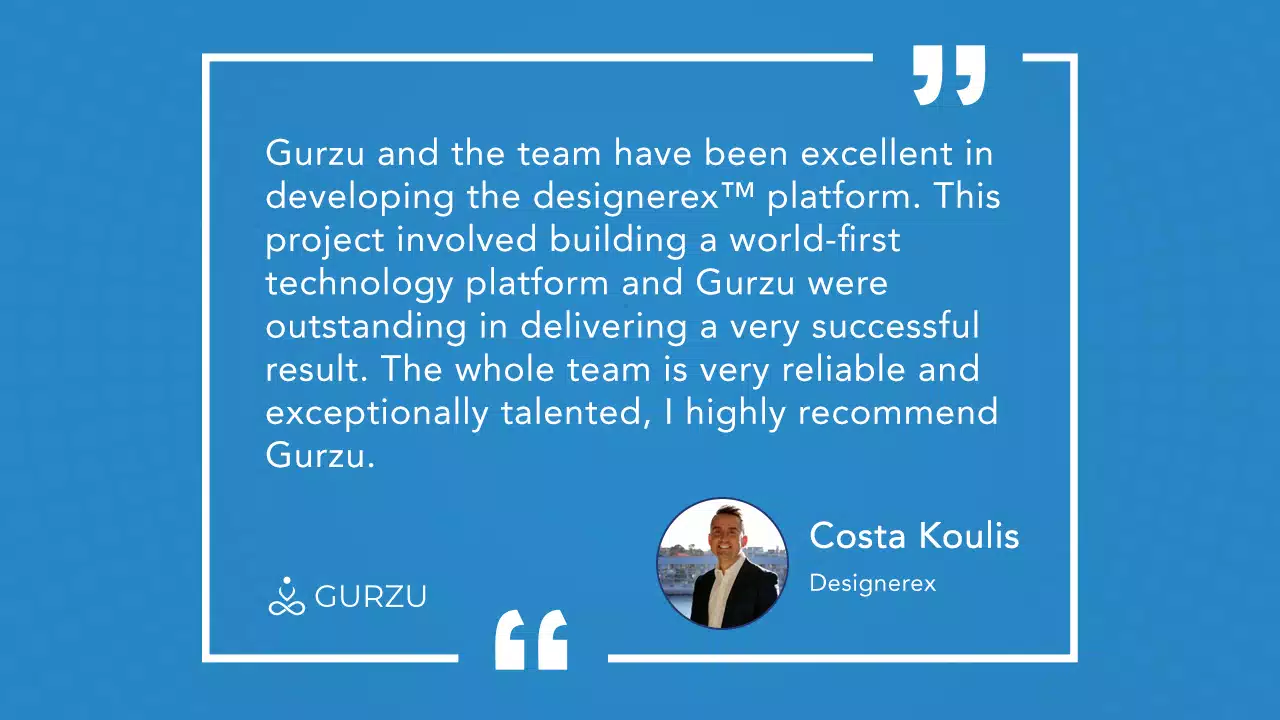 Gurzu helped the founders envision a product that provided a seamless experience to users. Our team of engineers spent the next three months developing an MVP and an additional three months developing and testing the final product. Agile work process of the team and continuous feedback from the client side made our development process even smoother.
Designerex Today
Today, Designerex™ is easily Australia's largest online designer dress rental destination. It is a one-of-a-kind dress-sharing platform that boasts more than 6.9K dress lenders and 35K dresses on rent. It has reported 50% more monthly active users than any other site in sharing economy niche. In an economy where so many startups fail to survive, Designerex™ has established itself as a success story. 
To Sum it up
Our team here at Gurzu enjoyed working to build this idea into a reality and loved the experience of working with the young, enthusiastic founders. While the concept itself was a major cause of success, we believe that our input has been valuable in creating a software solution that helps solve this staggering issue of sustainable fashion. Designerex™ is looking forward to constantly serving its customers better and has recently expanded its proven platform to the USA.
Ruby-on-rails is a robust framework that creates highly scalable applications ten times faster. Explore more of our awesome projects in our success stories.
Have a tech idea that you need help turning into reality? Book a free consulting session with us!